Alex Gino loves glitter, ice cream, gardening,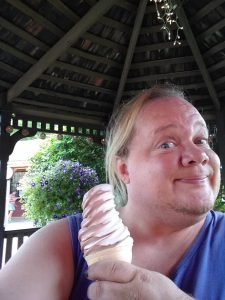 awe-ful puns, and stories that reflect the diversity and complexity of being alive. They would take a quiet coffee date with a friend over a loud and crowded party any day.
Born and raised on Staten Island, NY, Alex has lived in Philadelphia, PA; Brooklyn, NY; Astoria (Queens), NY; Northampton, MA; and Oakland, CA. In April 2016, they put their books and furniture in storage for what became an 18-month road trip through 44 states. They are now happily settling back into East Bay Area life.
Alex has been an activist and advocate for LGBTQ+ communities since 1997, when they became co-chair of what was then called the LGBA at the University of Pennsylvania. It was renamed the QSA the year after they left. Coincidence? Unlikely.
They are proud to have served on the board of NOLOSE, a fat-positive, queer, feminist organization dedicated to supporting radical fat acceptance and culture. Alex would like to thank the Black women and other amazing BIPOC (Black Indigenous and People of Color) folk of NOLOSE who raised their consciousness about race and how racism permeates our culture.
Alex is now excited to work with We Need Diverse Books to bring powerful, thoughtful panels to book and publishing conferences. All opinions on this site are their own.
Alex believes young people need tools to talk about and reflect on real issues in our world. Their second middle grade novel, YOU DON'T KNOW EVERYTHING, JILLY P, is set to release in fall 2018. It is a modern story about racism, Deafness, baby sisters, police violence, and learning about your own privilege.
---
Note:  Alex uses the singular-they, and the honorific Mx., pronounced "Mix".  (e.g. Mx. Gino is hoping they still have ice cream in the freezer.)  If you are speaking or writing about Alex, please do the same.
---
Alex in the Media
Interview with Tucson Tales on March 24, 2017
Alex Gino Unraveled on the Yarn Podcast on  September 18, 2016
Be Who You Are: Transgender Issues Come To Falmouth Schools in Cape Cod Wave Magazine on December 15, 2015
Children's Book Meant to Promote Acceptance of Transgender People in Frederick News-Post on November 15, 2015
Interview in the UK Guardian on September 9, 2015
Alex Gino on Debut Novel, "George", and the Importance of Transgender Voices in the Kid Lit World in School Library Journal on September 4, 2015
'George' Author Alex Gino Tells Us Why Young Readers Need Trans Narratives at MTV.com on August 28 2015

Interview in Kirkus Reviews Magazine on August 26, 2015
Transgender Children's Books Fill a Void and Break a Taboo in the NY Times, June 6, 2015
Please note: George's pronouns are wrong in this article, and the author is referred to by first name, deviating from NY Times standard policy.  No correction or apology has been issued, to the author's knowledge.
Transgender Titles for Young Readers in Publisher's Weekly, May 22, 2015
---
See reviews for George here!